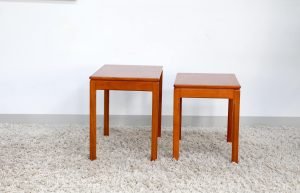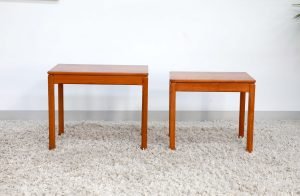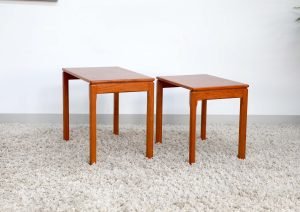 RETRO VINTAGE MID CENTURY COFFEE TABLES
RETRO VINTAGE MID CENTURY COFFEE TABLES
1 in stock
Description
Noblett Nest of Coffee Tables
CONDITION:
* In GOOD vintage condition
* Sturdy and solid table, no wobbles
* Some marks / wear commensurate with age and use
Please see photos carefully as they add to the description
DIMENSIONS:
Large: Width 60cm, Depth 38.5cm, Height 50cm
Small: Width 50.5cm, Depth 36.5cm, Height 46cm
Noblett Nest of Coffee Tables: Unparalleled Elegance and Functionality
The Noblett Nest of Coffee Tables is more than just a set of tables; it's a testament to the perfect fusion of elegance and functionality. Crafted with meticulous attention to detail, these tables are not only a practical addition to your living space but also a statement of timeless design. In this concise product description, we'll delve into the key attributes and benefits of the Noblett Nest of Coffee Tables and how they can transform your home into a haven of sophistication and versatility.
Design That Captivates
At the heart of the Noblett Nest of Coffee Tables lies a design that captivates the senses. Crafted with clean lines, balanced proportions, and a rich wood finish, these tables exude timeless elegance. The graduated sizing of the tables, from the larger coffee table to the smaller nesting tables, adds a layer of visual interest that immediately draws attention.
One of the standout features of this set is its ability to seamlessly complement various interior styles. Whether your living space is modern and minimalistic, traditional and classic, or a blend of styles, the Noblett Nest of Coffee Tables becomes an integral part of your decor. They enhance the overall ambiance with their sophisticated allure, making a statement of both style and functionality.
Quality Craftsmanship and Durability
Exceptional craftsmanship is the foundation of the Noblett Nest of Coffee Tables. These tables are meticulously constructed from high-quality materials, including solid wood, ensuring both durability and beauty. The sturdy construction provides stability, making these tables reliable pieces of furniture that will grace your living space for years to come.
The rich wood finish is not just visually appealing but also designed to resist wear and tear. This ensures that your coffee tables retain their elegance even with daily use. The meticulous attention to detail in the finishing process results in a smooth, polished surface that not only looks fantastic but also maintains its beauty over time.
Versatile Nesting Design
The Noblett Nest of Coffee Tables boasts a nesting design that adds an extra layer of versatility to your living space. This set includes multiple tables of varying sizes that nest neatly under the larger coffee table. When not in use, they form a compact unit that saves space and enhances the room's aesthetics.
When you need extra surface area for snacks, drinks, or decorative displays, simply slide out one or more of the nesting tables. This flexibility allows you to adapt your living space to your needs, whether you're entertaining guests or enjoying a quiet evening at home.
Practicality Meets Style
The Noblett Nest of Coffee Tables isn't just a visually appealing set; it's designed for practical use. The ample tabletop space offers room for your books, magazines, snacks, and decorative items. Whether you're hosting a gathering or enjoying a peaceful moment alone, these tables provide the surface you need.
Moreover, the nesting design allows for easy storage when not in use, making them an excellent choice for smaller living spaces. Their adaptability ensures that they can seamlessly fit into various room layouts, from spacious living rooms to cozy corners, adding both style and practicality.
Tailored to Your Tastes
Personalization is key when it comes to home decor, and the Noblett Nest of Coffee Tables understands that. With a choice of wood finishes and table sizes, you can tailor this set to match your style and complement your existing decor seamlessly. Whether you prefer a warm, classic wood tone or a contemporary, sleek finish, there's an option that aligns with your vision for your living space.
The ability to customize the wood finish and table sizes ensures that the Noblett Nest of Coffee Tables become a unique reflection of your design preferences and space requirements. This personalization allows you to create a living space that is not only elegant but also tailored to your individual needs.
An Investment in Style and Versatility
Investing in the Noblett Nest of Coffee Tables is not just about acquiring furniture; it's about enhancing your living space with style and versatility. These tables are more than just surfaces; they are symbols of sophistication and practicality that elevate your home decor.
Their enduring design ensures that they won't go out of fashion, guaranteeing that your investment will continue to enhance your living space for years to come. Whether you're furnishing a new home or looking to revitalize your existing decor, the Noblett Nest of Coffee Tables is a valuable addition that effortlessly combines style and functionality.
Conclusion
In conclusion, the Noblett Nest of Coffee Tables is a celebration of timeless design, quality craftsmanship, and versatile functionality. Their ability to seamlessly integrate into various interior styles, coupled with their customizable features, makes them a top choice for discerning homeowners.
By choosing the Noblett  Coffee Tables, you're not just acquiring tables; you're investing in the enduring elegance and practicality of your living space. These tables are a testament to the fact that exceptional design and quality craftsmanship never go out of style. Elevate your home decor with the Noblett Nest of Coffee Tables and enjoy the perfect fusion of sophistication and versatility.