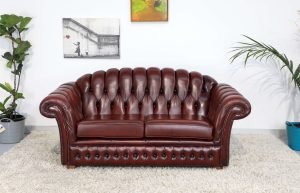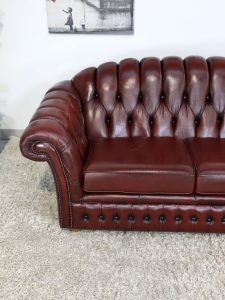 GENUINE LEATHER CHESTERFIELD 3 & 2 SEATER SOFA
GENUINE LEATHER CHESTERFIELD 3 & 2 SEATER SOFA
1 in stock
Description
FEATURES:
* Grand and majestic / would suit the industrial decor
* Made by Classic Chesterfield Furniture
CONDITION:
* No holes, tears or buttons missing
* The frame of this sofa is structurally sound and in as great condition as the day this was made!
* Minor signs of use/wear commensurate with age
Please see photos carefully as they add to the description
DIMENSIONS:
3 Seater: Width 215cm, Depth 94cm, Height 80cm, Seat Height 42cm
2 Seater: Width 180cm, Depth 91cm, Height 80cm, Seat Height 43cm
Introducing the Chesterfield Sofa in Brisbane – a symbol of timeless elegance, craftsmanship, and luxury. This iconic piece of furniture is the epitome of sophistication, blending classic design with modern comfort to create a centerpiece for your living space that transcends trends and time.
Classic Chesterfield Design: The Chesterfield Sofa in Brisbane embodies the quintessential Chesterfield design, characterized by its distinctive deep button-tufting, rolled arms, and hand-finished details. This classic silhouette exudes an enduring charm that adds a touch of traditional elegance to your home, making it the perfect fit for both contemporary and traditional interiors.
Luxurious Upholstery: Adorned with sumptuous upholstery options, this Chesterfield Sofa offers a tactile experience that is second to none. Whether you prefer premium leather for a sleek and sophisticated look or soft, textured fabric for a cozy and inviting ambiance, the choice of upholstery materials allows you to customize the sofa to match your personal style and decor.
Unmatched Comfort: Sink into the plush comfort of the Chesterfield Sofa in Brisbane. The deep, generously cushioned seats and high, curved backrest provide exceptional lumbar support, creating an inviting haven for relaxation. Whether you're curling up with a book, entertaining guests, or simply unwinding after a long day, this sofa offers an unparalleled level of comfort.
Robust Construction: Crafted for longevity, the Chesterfield Sofa is built on a solid hardwood frame, ensuring durability and stability. The meticulous attention to detail, from the hand-tufted buttons to the carefully crafted rolled arms, reflects the commitment to superior craftsmanship and quality.
Versatile Placement: The Chesterfield Sofa's versatile design allows it to seamlessly integrate into a variety of settings. Whether it's placed in the center of your living room as a statement piece or positioned in a cozy corner for intimate conversations, this sofa adds an air of elegance to any space.
Invest in the Chesterfield Sofa in Brisbane, and you're investing in more than just furniture; you're investing in a lifestyle of luxury and refinement. Elevate your home's decor with this exquisite sofa and experience the perfect blend of classic design and modern comfort. Chesterfield Sofa in Brisbane – where timeless elegance meets contemporary living. Choose sophistication. Choose Chesterfield.