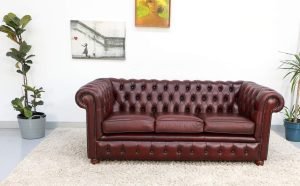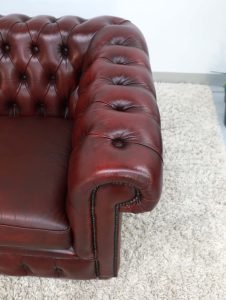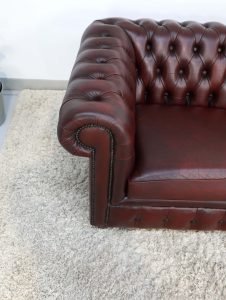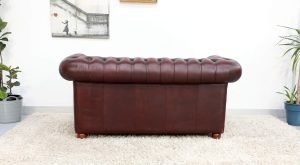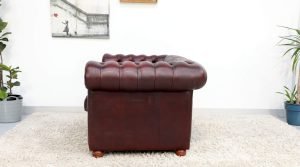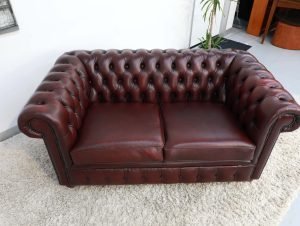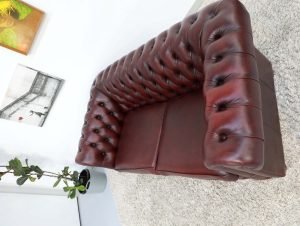 GENUINE LEATHER CHESTERFIELD 3 & 2 SEATER SOFA
GENUINE LEATHER CHESTERFIELD 3 & 2 SEATER SOFA
1 in stock
Description
Chesterfield Lounge
FEATURES:
* Grand and majestic / would suit the industrial decor
* Australian made
CONDITION:
* No holes, tears or buttons missing
* The frame of this sofa is structurally sound and in as great condition as the day this was made!
* Some light wear on seats / nice patina and character
Please see photos carefully as they add to the description
DIMENSIONS:
3 Seater: Width 190cm, Depth 90cm, Height 73cm, Seat Height 45cm
2 Seater: Width 168cm, Depth 90cm, Height 74cm, Seat Height 45cm
Introducing our Chesterfield Lounge, the epitome of timeless luxury and sophistication. Crafted with meticulous attention to detail and the finest materials, this piece embodies classic design while providing supreme comfort for your ultimate relaxation.
At the heart of this lounge is the iconic Chesterfield button-tufted backrest, a design that has withstood the test of time. Its deep buttoning not only adds a touch of opulence but also provides excellent lumbar support. The hand-tailored, top-grain leather or premium fabric upholstery showcases a rich texture and enhances the overall elegance.
The high, rolled arms of the Chesterfield Lounge not only exude style but also offer a comfortable place to rest your arms. Its solid wood frame, reinforced with sturdy craftsmanship, ensures the longevity of this exquisite piece.
Whether placed in a traditional setting or used to create a focal point in a more contemporary space, the Chesterfield Lounge seamlessly blends with any decor. Its versatility is matched only by its comfort, making it the perfect choice for both relaxation and conversation.
Indulge in the timeless allure of the Chesterfield Lounge and make a statement of refinement and taste in your living space. Experience the legacy of classic design with the utmost comfort – this is the essence of our Chesterfield Lounge.