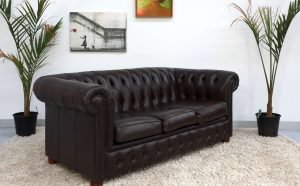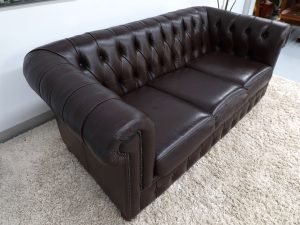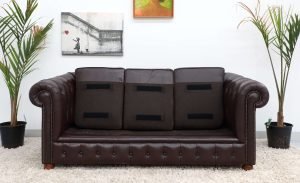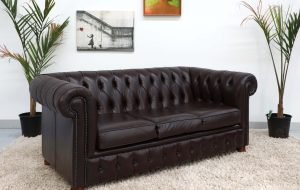 BEAUTIFUL LEATHER CHESTERFIELD PAIR OF 3 SEATER SOFA
BEAUTIFUL LEATHER CHESTERFIELD PAIR OF 3 SEATER SOFA
1 in stock
Description
FEATURES:
* Grand and majestic / would suit industrial decor
* The cushions are all removable for cleaning etc
CONDITION:
* No holes, tears or buttons missing
* Some light wear on seats / nice patina and character
Please see photos carefully as they add to the description
DIMENSIONS:
SOFA 1: Width 188cm, Depth 88cm, Height 72cm, Seat Height 43cm
SOFA 2: SAME AS ABOVE
Discover the epitome of classic sophistication with our Leather Chesterfield Sofa. This iconic piece of furniture encapsulates timeless design and unparalleled elegance. Crafted with meticulous attention to detail, the Leather Chesterfield Sofa is more than just a place to sit; it's a statement of refined taste and enduring quality.
Timeless Design: Our Leather Chesterfield Sofa showcases the quintessential Chesterfield design, featuring deep button-tufting, rolled arms, and intricately hand-finished details. Its traditional silhouette seamlessly blends with modern living spaces, providing an air of sophistication that never goes out of style.
Luxurious Leather: Adorned with top-grain leather upholstery, this sofa offers a sumptuous texture and rich, inviting feel. The premium leather not only adds a touch of opulence to your decor but also ensures lasting durability, promising a comfortable and beautiful seating experience.
Supreme Comfort: Sink into the plush comfort of the Leather Chesterfield Sofa. The deep, generously cushioned seats and high, curved backrest provide exceptional lumbar support, creating the perfect spot for relaxation after a long day, intimate conversations, or hosting guests in style.
Solid Construction: Built to stand the test of time, the  Sofa features a robust internal framework constructed from solid hardwood. This solid foundation enhances the sofa's longevity, stability, and your peace of mind.
Versatile Luxury: Whether you place it in your living room as the centerpiece of your decor, in your library for a touch of classic charm, or in your office for an elegant statement, the Leather Chesterfield Sofa elevates the ambiance of any space it graces.
Invest in the timeless elegance and enduring quality of the  Sofa, and create an atmosphere of luxury and comfort in your living space. Experience the perfect blend of classic design and modern living. Choose the Leather Chesterfield Sofa for sophistication that never goes out of style.