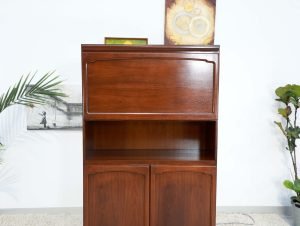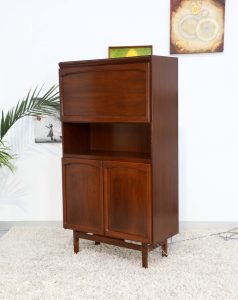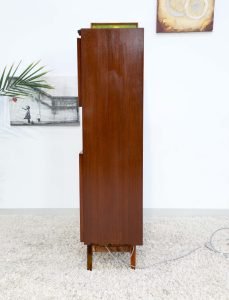 Retro Vintage Mid Century Bar Cabinet
Retro Vintage Mid Century Bar Cabinet
1 in stock
Description
FEATURES:
* Plenty of storage options
* Dropdown liquor cabinet
* 2 open door storage with shelving
CONDITION:
* In GREAT vintage condition
* Marks and wear commensurate with age and use
* Minor scratches as shown dont buy if you are looking for perfection
Please see photos carefully as they add to the description
DIMENSIONS:
Width 90.5cm Depth 40cm Height 165.5cm
Elevate your home's aesthetic with our Vintage Cocktail Cabinet, a stunning piece that seamlessly fuses nostalgia with modern functionality. This exceptional cabinet is a testament to timeless design and is designed to capture the essence of a bygone era.
Classic Elegance: The Vintage Cocktail Cabinet exudes classic charm. With its retro-inspired design, this piece features intricate detailing, ornate hardware, and rich wood finishes, evoking a sense of old-world glamour. Its graceful lines and vintage aesthetic make it a true statement piece.
Quality Craftsmanship: Crafted with precision and care, this cabinet is built to last. It is constructed from solid wood, ensuring both durability and stability. The superior craftsmanship and attention to detail are evident in every inch of this piece, promising lasting quality for your home.
Versatile Storage: Not just a display of elegance, this cabinet offers practicality. It provides ample storage for your glassware, bottles, and bar accessories. With dedicated shelves, drawers, and compartments, it's designed to keep your cocktail essentials organized and readily accessible.
Personalize Your Space: The Vintage Cocktail Cabinet allows you to infuse your personality and style into your living space. Use it as a bar station in your living room, a chic addition to your dining area, or even as an elegant statement piece in your study or home office.
Create a vintage-inspired haven in your home with the Vintage Cocktail Cabinet, where classic aesthetics meet modern living. Embrace the charm of the past, and elevate your decor with a piece that celebrates sophistication and nostalgia. Choose timeless elegance. Choose the Vintage Cocktail Cabinet.